FP7Au 1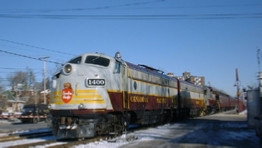 400 was built for Canadian Pacific as FP7A 4099 in April 1953. It has been upgraded to FP9 standards. As built it was geared for 77 mph operation. It was regeared to 89 mph in March 1954 for service on the new Canadian. It was renumbered 1400 at this time. It was sold to VIA and briefly bore the number 1400 before being renumbered to VIA 6550. VIA sold the unit to the Nebkota Railway as their no. 55. CP acquired the unit from Nebkota in 1998. It is presently stored unserviceable at Calgary and is being used as a parts source.
The train back
ed down from St. Luc to Windsor via Wentworth on November 24, 2000. It is shown here crossing Westminster Avenue at Montreal West. The first car is No.74 Mount Stephen. This car was constructed in December 1926 at Angus shops. It and sister car Strathcona were for use by the board of directors. The Mount Stephen served as the executive day car. It had no sleeping accommodation save for a sleeping compartment off the kitchen for use by the steward. Sleeping accommodation was provided by executive night car Strathcona which had 5 suites with bathtubs. Strathcona was sold to Conklin and Garret Shows in 1974 and went to the Canadian Museum of Rail Travel at Cranbrook, B.C. in 1990. The Mount Stephen's dining room can accommodate 14 guests.
© Jim Sandilands, 2019
Email: jimsand 2009 at gmail dot com
Royal Canadian Pacific in Montreal
In late November 2000 Canadian Pacific sent a business car train composed of locomotives and cars from the Royal Canadian Pacific service to Montreal from Calgary for marketing purposes. While in Montreal the train stayed at Windsor Station (Terminus Windsor) and made a Saturday night dinner train trip to Hudson, Qc and return. The train left Calgary with FP7Au 1400, F9B 1900, GP38-2 3084, baggage-generator 95, stateroom car 79 N.R. Crump and business cars No. 77 Van Horne, No.78 Royal Wentworth and No.74 Mount Stephen. The baggage-generator and the N.R. Crump were left behind at St. Luc yard and business car No.73 Mount Royal was added to the consist for the move to Terminus Windsor.
Click on a thumbnail to view an enlarged image.
Next was No.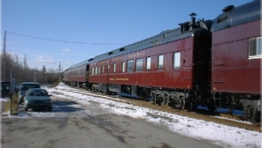 78 Royal Wentworth. It was built in August 1926 at Angus as Wentworth. In 1999 it was renamed Royal Wentworth to commemorate its service on the 1939 Royal Train which conveyed their Majesties King George VI and Queen Elizabeth from Quebec City to Vancouver and from Vancouver to Halifax. The car has two twin rooms, and a dining room. It accommodates 12 persons.
Third was No.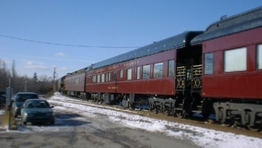 77 Van Horne. It was built in June 1927 at Angus. The car features two twin rooms.
The final busi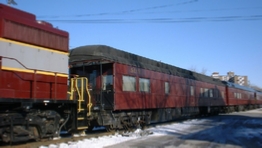 ness car is No.73 Mount Royal which was, at the time, assigned to Montreal and had St. Lawrence and Hudson lettering. Angus shops turned it out in October 1927 as Mount Royal. In October 1969 it was renamed Ontario. It regained the name Mount Royal in 1989.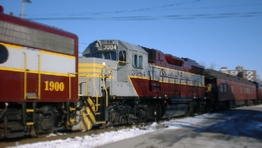 CP 3084 was built in January 1986. This GP38-2 was painted in tuscan red and grey with script lettering in March 2000.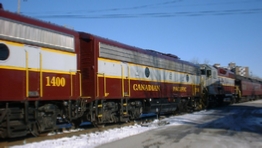 F9B 1900 was built in January 1955 as for Canadian National as no. 6612. It bore the same number in VIA service and was sold to the Nebkota Railway as their no. 66. CP acquired the unit from Nebkota in 1998.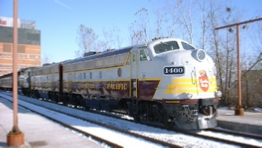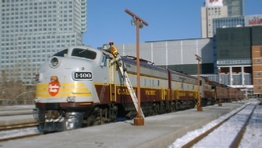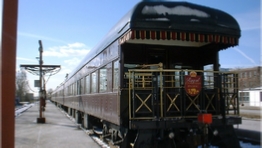 The above four photos show the train at Terminus Windsor on November 24, 2000. This station is now shown as Lucien L'Allier on commuter timetables but remains Terminus Windsor on CP's employee timetable. Historically, some of the Royal Canadian Pacific cars have been placed at the disposal of notables such as: Their Majesties King George VI and Queen Elizabeth; Their Royal Highnesses Princess Elizabeth and the Duke of Edinburgh (later Queen Elizabeth II and Prince Philip); Their Royal Highnesses the Duke and Duchess of Windsor (former King Edward VIII and Wallis Simpson); Her Royal Highness Princess Margaret, and Her Royal Highness Princess Anne; British Prime Minister Winston Churchill; US President Franklin Delano Roosevelt; and Canadian Prime Minister William Lyon Mackenzie King.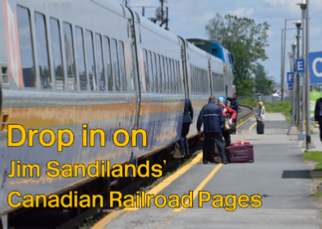 For more information on the Royal Canadian Pacific: