Devoted to Canada's Railways Past and Present
The Carillon & Grenville Railway
A history of the Carillon & Grenville Railway, Canada's last broad-gauge railway. Also covered is the subsequent re-use of part of the right of way by the Canadian Northern Railway and its abandonment under Canadian National Railways.
Some of my photographs of railroading in Canada and abroad.
Royal Canadian Pacific in Montreal
Photos of the Royal Canadian Pacific business car train in Montreal in late November 2000.
Photos of Canadian Pacific 2816's spring 2004 visit to Montreal.
VIA Rail Canada only ever owned one "road switcher" type locomotive. It was No. 8558, an ex-Canadian Pacific RS-10. Its seen here in action in the late 1970s operating in its customary position on VIA as a trailing unit.
Vermont Central Fixed Globe Lantern For Sale
This fixed Globe lantern with a clear globe marked "VCRR" (Vermont Central Railroad) is from the collection of the late Omer Lavallée, C.M. It was manufactured by H&J Sangsters and bears an 1851 patent date. The lantern is in good condition. Suggested price $$1000.00 (Canadian - Negotiable)
A selection of railroad-related books and links.
© Jim Sandilands, 2018
Email: jimsand 2009 at gmail dot com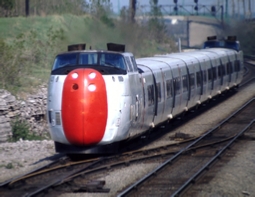 Site Search